Description
TOOTH BRUSHING IN LESS THAN 30 SECONDS!
360 Degree coverage brushes all surface spots at once for a dedicated 30 seconds, which is also all you need in total for a thorough clean.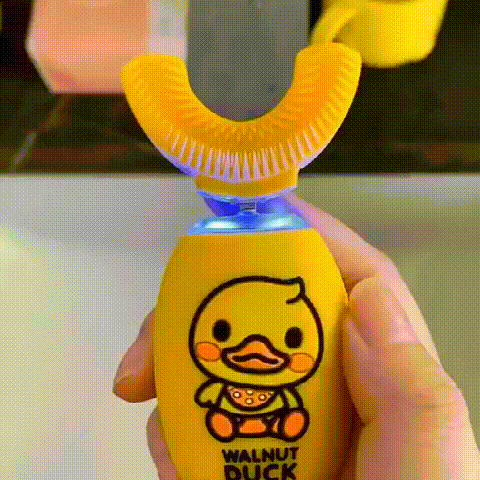 Perfect for sensitive or receding gums. Our antibacterial silicone brush heads are tough on plaque but gentle on the gums.
One of the biggest issues for parents…is getting their kids to brush their teeth!. When kids finally do brush, it may not be effective and certainly not fun. 360 degree U-shaped children's electric toothbrush was developed to put the FUN into brushing teeth!
FEATURES:

Omni‑directional waterproof sealing designs, IPX7 send waterproof, convenient, durable, cleaning.
Multi‑gear switch, suitable for tooth growth stage, 8000‑31000 times/min cleaning vibration frequency close to adapt to children sensitive young teeth.
The ‑shaped toothbrush head is designed with food‑grade material that touches the gums and teeth at 360 degrees, giving your mouth a quick and comfortable experience every time you brush your teeth.
9D Fit teeth without a dead angle to take care of every small baby tooth of children in an all‑round way.


MODES:
1st Gear massage mode (8000 times frequency/min, massage the gums to care for the gums)
2nd Gear gentle mode (11,000 frequency/min, suitable for 6-year-old children with tooth replacement)
3rd Gear cleaning mode (16000 frequency/min, suitable for 7-9-year-old children, cleaning teeth to show white teeth)
4th Gear gingival mode (23,000 frequency/min, suitable for children aged 9-11, enhanced cleaning, anti-cavities)
5th Gear deep mode (31000 frequency/min, suitable for 11-14 children, deep cleaning, tooth care)

7: Soft Baby Toothbrush BPA Free Silicone Baby Teeth Teeth
8: Baby Finger Toothbrush Silicone Toothbrush + Box for Kids
9: Creative Baby Toothbrush Three-sided Safety Soft Brush Kids
10: Baby Teeth Teeth Clean Brush Food
11: kids toothbrush baby tooth care
Payment & Security
Your payment information is processed securely. We do not store credit card details nor have access to your credit card information.